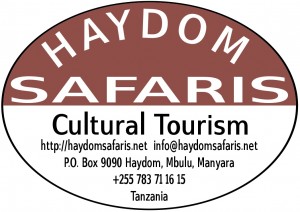 Welcome on the website of Haydom Safaris and Cultural Tourism! Here you can find all the information you need about planning your safari. Whether it is your first time to go on safari or maybe you have already seen a lot of the world, Haydom Safaris can make a schedule according to your wishes and special interests. We can show you the most beautiful National Parks of the Northern Circuit, take you on a trip to hunt or cook with the local tribes of Tanzania or take you on a walk to climb the green slopes of mount Meru. Also a relaxing end of your safari on the beach is one of the possibilities. Get inspired by the great variety of Northern Tanzania!
If you have any questions, don't hesitate to contact us!
All prices and possibilities on the website are subject to changes and availability. No rights can be derived from this website. All safaris are custom-made, so please contact us to discuss the possibilities with us and ask for a price calculation based on your wishes.
Copyright for the pictures on this website: koen(a)vliegenthart.org